Development of 70MW Coal Water Slurry Boiler
Categories:

Industry News

Author:

Origin:

Time of issue:

2021-01-12

Views:

0
(Summary description)
Development of 70MW Coal Water Slurry Boiler
(Summary description)
Categories:

Industry News

Author:

Origin:

Time of issue:

2021-01-12

Views:

0
Coal Water Slurry Boiler is one type of CFB boiler burning coal water slurry. CWS (coal water slurry) is a new type of coal-based fluid clean and environmentally friendly fuel. It not only retains the combustion characteristics of coal, but has the characteristics of liquid combustion similar to heavy oil. It is a realistic clean coal combustion technology in our country. At present, the utilization of coal water slurry focuses on atomized combustion, but the environmental protection cost is too high.
In 2015, Coal Boiler Manufacturer Taishan Group developed a 70MW coal water slurry boiler. It can meet the ultra-low emission requirement (dust emission concentration ≤5mg/m3; SO2 emission concentration ≤35mg/m3; NOx emission concentration ≤50mg/m3).
Coal Water Slurry Boiler Design Parameter
Rated power: 70MW
Outlet water pressure: 1.6MPa
Outlet water temperature: 130Deg. C
Inlet water temperature: 90Deg. C
Operating load range: 50-110%
Fuel type: coal water slurry
Fuel consumption: 21528kg/h
Design thermal efficiency: 90%
Flue gas exhaust temperature: 130Deg. C
In-furnace desulphurization efficiency: 95%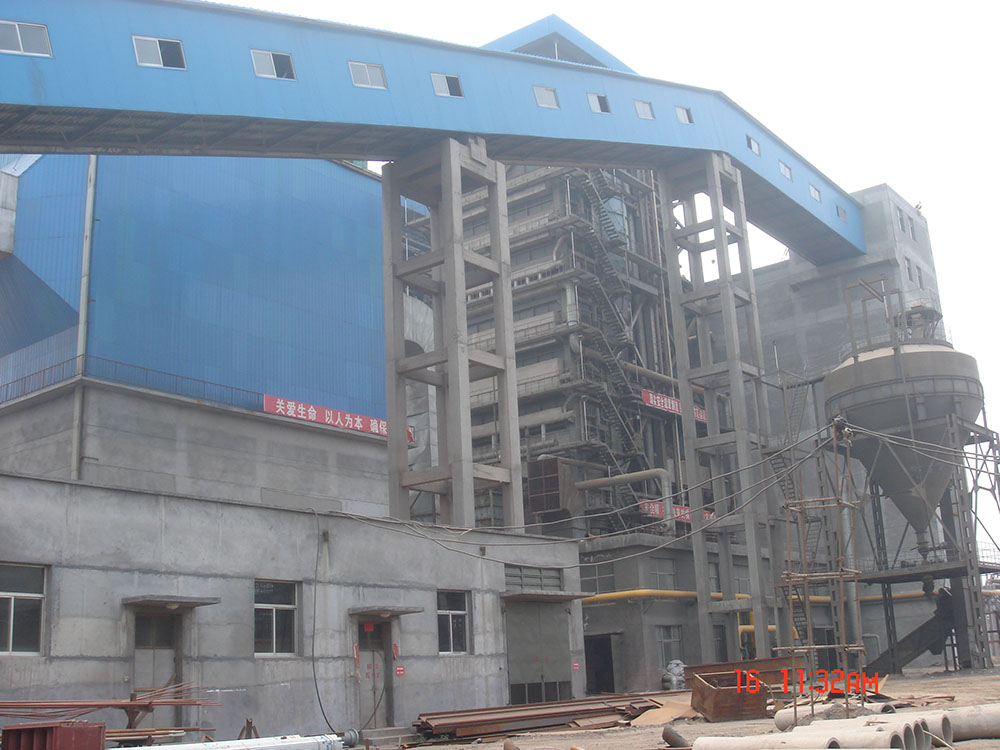 Coal Water Slurry Boiler Structure Introduction
It is a single drum, full forced circulation, π type layout coal water slurry CFB boiler, and operating floor elevation is 7m.
The CFB boiler is mainly composed of furnace, adiabatic cyclone separator, self-balancing return valve and tail convection flue duct. The furnace adopts membrane wall, middle is cyclone separator, and tail flue duct is bare tube economizer. Primary and secondary air preheater are below the economizer.
The coal boiler CFB combustion technology is based on our experience in producing CFB boiler plus advanced operating data. It achieves the technical advantage in low power consumption, low pollutant emission, high combustion efficiency and high availability rate. Coal feeding system sends the coal-water-slurry into granulator and furnace, and combustion air is from primary and secondary air fans. Fuel and air are mixed and combusted in a fluidized state in the furnace, and exchange heat with the heating surface. The flue gas (carrying unburned carbon particles) is further burned to release heat in the upper part of furnace. After the flue gas enters the cyclone separator, most materials are separated and returned to furnace to achieve cyclic combustion. The separated flue gas flows through the reversing chamber, high temperature economizer, low temperature economizer, air preheater and flue duct.
Scan the QR code to read on your phone
Contact Us
Taishan Group Tai'an Boao International Trade Co., Ltd.
Tel:+86-0538-6619632
E-mail:boao@taishanboao.com
Add:No. 1169 Beitianmen Street, High-tech Development Zone,
Tai'an City, Shandong Province